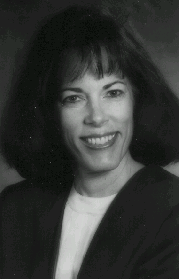 CHRISTINE M. ANDERSON
Director
Space and Missiles Technology Directorate
USAF Phillips Laboratory
Kirtland Air Force Base NM 87117-5776
505 846-6243
anderson@plk.af.mil

Christine M. Anderson, a member of the Senior Executive Service, is Director of the Space and Missiles Technology Directorate at the Phillips Laboratory, Kirtland Air Force Base, New Mexico. She is responsible for planning and implementing the research, development, and transition of space and ballistic missile technologies for the United States Air Force. Her 300 person directorate focuses on leading-edge technologies including space electronics, satellite control, spacelift, power and thermal management, sensors, communications, structures, astrodynamics, data fusion, and advanced distributed simulation.
In her previous positions, Ms Anderson served as the Project Manager of the US Department of Defense sponsored Ada 9X Project: a revision of the international standard programming language Ada for which she received the Secretary of Defense Medal for Meritorious Civilian Service. Ms Anderson also held various other positions in the Air Force including Chief of the Space Operations and Simulation Division at the Phillips Laboratory, Chief of Computer Technology at the Armament Laboratory, and senior software engineer at the Avionics Laboratory.
Ms Anderson is an active member of the American Institute of Aeronautics and Astronautics (AIAA), a 32,000 member aerospace professional society. She served on the Board of Directors form 1989-1996 in various capacities including Vice President, Member Services and Director at Large. She also served as the National Chairman of the AIAA Software Systems Technical Committee. Ms Anderson is the recipient of the AIAA Software Engineering Award and is an AIAA Fellow.
Current as of July 1996