Ada Home
April 21, 1997
Announcement
Ada 95 Lovelace Tutorial Updated
by Magnus Kempe
The Ada 95 Lovelace Tutorial, an interactive, Web-based tutorial designed to teach Ada 95 to programmers who already know another language, has been updated by author David A. Wheeler to version 5.7.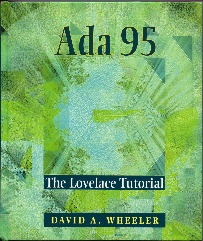 Note: This excellent online tutorial has now been published in book format: Ada 95: The Lovelace Tutorial by David A. Wheeler, Springer-Verlag 1997, ISBN 0-387-948-01-5.
The book can be ordered on-line from the Ada Home Bookshop, in the Introduction to Programming with Ada section.
What's new in version 5.7
Information added about the book version, now that it has become available. Some minor modifications to ease downloading and installation, and a few cosmetic changes.
---

Resources
Page last modified: 1997-05-29