Ada in Switzerland - 16th Meeting
Orientation in Object-Oriented Development
Date: Thursday, November 21, 1996
Location: Hotel Inter-Continental
Saal Cairo, Badener Str. 420, 8040 Zurich
Duration: full day

Registration deadline: November 15, 1996

Sponsor: Thomson Software Products

Participation is free of charge.
Pre-registration required.
Please register early, space is limited.
See program below.

Invited speaker is S. Tucker Taft, Principal Designer of Ada 95, the first internationally standardized object-oriented programming language.

Please register (with name, position, address, phone/fax numbers) by fax at +49 721 98653-98 or by email to info@thomsoft.de

Mr. Taft is Chief Scientist in the Intermetrics Products and Technology Group and is currently Technical Director developing "AdaMagic", Intermetrics' Ada 95 technology. He is also leading development for Intermetrics' Ada 95-to-Java byte-code compiler, called "AppletMagic".
Magnus Kempe
Chair, Ada in Switzerland
---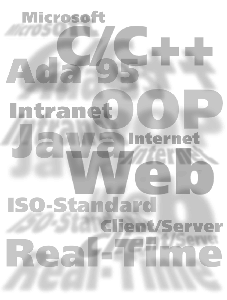 Program of the Day
Themes:
the newest object-oriented technologies
why Ada 95?
Ada 95--the better alternative to C/C++?
creating Java-applets with Ada 95
the development of real-time and multi-threaded object-oriented applications with Ada
practice: the newest ISO-validated Ada 95 development environment by THOMSON SOFTWARE PRODUCTS
Each participant will receive a free CD-ROM with the new Ada 95 development environment by THOMSON SOFTWARE PRODUCTS
09:15

Welcome

09:30

Management session with Tucker Taft
Concepts of object-oriented development and their basis

10:30

Coffee break

11:00

Management session continues

12:00

Demonstration: ObjectAda for Windows

12:30

Lunch all together

13:45

Ada in CH General Assembly

14:00

OO-Workshop with Tucker Taft
Development of object-oriented applications with Ada 95

15:30

Tea break

16:00

Discussion

17:00

End of the meeting